This is branding with joy!
For the busy entrepreneur starting and ready to go!
I got you! Let's create a beautiful, vibrant and unique mark for your brand.

I know you have a lot on your plate. You have school runs, a 9-5, a home, parents, friends, expectations. And life happens, all the time. 
But you also have a dream: you have people you can help, a legacy to create, a community to build, an amazing offer.
And you want to get started. NOW.
You are done with just planning and dreaming.
You want to show up with confidence and consistency.
You have a talent to get to the core of your clients' issues. You have a solution and a way of doing it that is so impactful, and so uniquely yours… If only they knew about you! 

It's soul-painful not to be seen. Invisible. Getting lost in the web of sameness… and it is time consuming to go at it alone.


That's where Brand Bliss comes in. 
One intensive week of work and play to get to the roots of your business and come out with a bespoke visual identity. Blissfully.
One logo, one color palette, one brand book and a beautiful understanding of your brand story. All these in 7 days.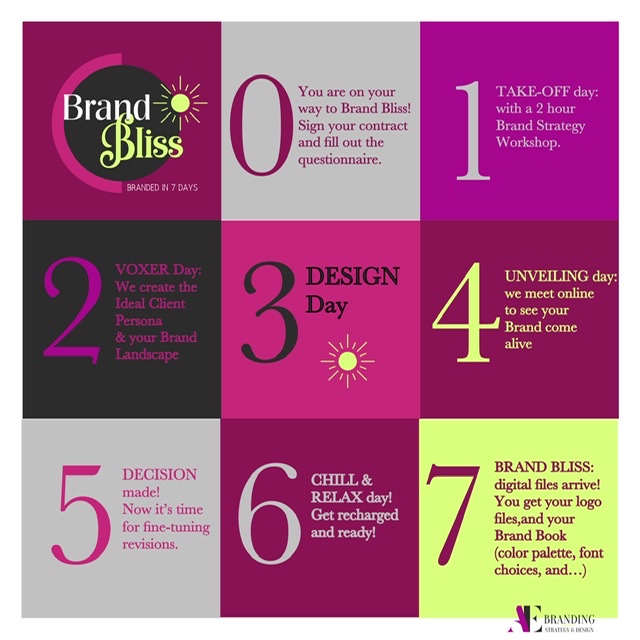 An image is processed by our brains 60 thousand times faster than words. When this image, your logo/mark, incorporates your story, your solution, your truth…. Bliss!
Your clients and future clients will naturally gravitate toward you.
✨You get to do your work instead of "wasting" time picking colors on CANVA.

✨You will be better able to tell your story. (Hint: Use your logo as a metaphor).

✨You will be visible. Recognizable.

✨You will be blisfully-branded 😊! 
Let me know you are interested ⬇️ and I will send you all the juicy details.

I'm interested in Brand Bliss…
Here is a video sample of one Brand Bliss week:
 Strategy Workshop 
More than just a Questionnaire 
I 
work closely with you to understand, clarify, define & decide. And of course,
design
your
brand
. 
One week, your brand. Pure Bliss.